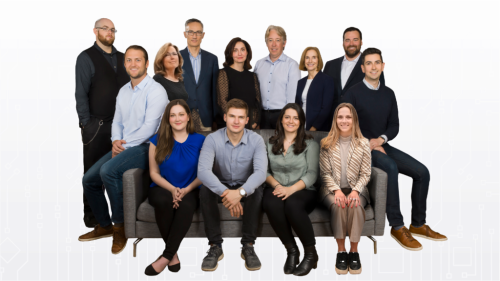 Announcing $158M Glasswing Ventures Fund II
We are thrilled to share that Glasswing Ventures closed Fund II with $158M in capital commitments. This new, oversubscribed fund received strong support from our existing and new Limited Partners. We are humbled to have their trust as we invest in the next generation of revolutionary companies.
The new fund further enables us to do what we do best: seek and back visionary founders who harness the power of AI and frontier technologies to build enterprise software and security platforms with pre-seed and seed stage investments.
Today's most pressing challenges will be addressed by innovative ideas and groundbreaking technologies—and the individuals behind these technologies must be supported and uplifted. Through our founder-first ethos, we have built and fostered close-knit relationships that last. The proof is in the numbers: over 70% of our portfolio founders are successful repeat entrepreneurs and more than 50% of them have previously worked with the Glasswing team, a hard-to-miss indicator of the tight partnership we establish and the desire to work together over and over again. We are proud that Glasswing Ventures is the founders' firm of choice. We are the first capital in for 80% of the portfolio companies.
Given the nature of early stage, we are relentless in helping our founders build the right foundation for success and are constantly challenging ourselves to find new ways to support them. Whether we are recruiting executives, introducing customers, or connecting our founders to follow-on capital, we view ourselves as an extension of their teams. This is manifested in the Glasswing Platform, which we have built for the very purpose of accelerating the growth and success of portfolio companies.
This proprietary and well-orchestrated Platform empowers our founders to launch their companies, assemble powerhouse teams, acquire customers, and cross the chasm to scale. In addition to our in-house team of domain experts, we provide our entrepreneurs with access to our exclusive advisors—world-renowned experts in AI, Fortune 500 executives, and visionary entrepreneurs. As we continue to arm our founders with industry-leading expertise and support, we have expanded from 35 to 52 exclusive Advisors. Our Platform also supports founding teams with a comprehensive array of resources ranging from growth blueprints to talent recruiting, from programmatic customer introductions to preferred vendor rates. Most importantly, we help our startups shorten the time and path to achieving product-market fit and becoming market leaders.
We believe that success comes from backing exceptional founders who have the ability to build high-performing, diverse organizations—with teams that define industries and endure through change. As a majority women-owned firm, commitment to Diversity, Equity, and Inclusion (DEI) is in our DNA. Over 90% of our portfolio companies have women or BIPOC C-level executives, and 83% of them have women or BIPOC Directors on their Boards.
Funding and empowering exceptional founders to build generation-defining businesses is what we love to do. Harnessing the power of innovation drives us. Making a transformative impact on industries and communities inspires us. We are Glasswing Ventures, where ideas take flight.
Read more about Glasswing's Fund II here.